WORLD'S FIRST Touchless Camera-Keyboard with full-size keys
Free Your Fingers from Force and Pain for Performance and Fun
Best keyboard for hands with arthritis, tendonitis, bursitis, Carpal Tunnel Syndrome, and various injuries.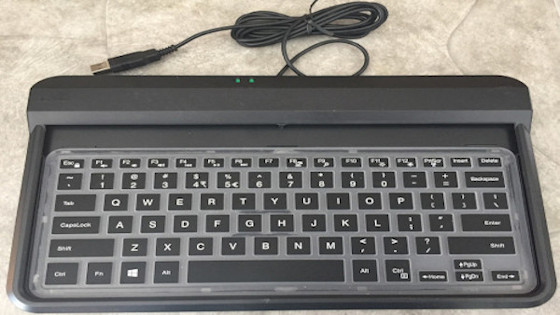 Demo Video with Bendy-Straw operation
Brief Summary Of Benefits:
Avoid force and hurting on fingers
Reduce stress and pressure on wrists and carpal tunnel
Faster key response than push-button keyboards
Enter more data with less work, and less time
Synopsis
LIGHTIO invented a new technology again. Utilizing cutting edge Computer Vision technology and proprietary Artificial Intelligence algorithms, this patented new keyboard removes all the limitations and inconveniences of its predecessor – the infrared frame based touchless keyboard.
This keyboard uses two smart cameras to watch the keys. When a finger or a bright object gets close to the surface of a key, the smart cameras can recognize the situation and send the key stroke to the host computer through a USB connection. For a more detailed usage description, please read the User Instruction.
LIGHTIO was started on the mission of using optical technology to remove pain from using computers, to protect human body from repetitive strain, and other form of injuries as well. Over the years, many people with various kinds of injuries, especially people with arthritis and tendinitis in their hands have found the touchless input devices very helpful to enable them back to work. Some customers even buy more for prevention purposes. They were by far the best keyboard for people with arthritis and tendinitis.
However, previous technology, mainly using discrete infrared sensors, have some limitations that prevented the touchless technology products to be used by all people, especially mainstream computer users. It seems the single most stopping feature of the previous product is the size issue. The reduced size only serve people with smaller hands well. Users of the majority population would like the standard or full size of the keys (11.5mm X 11mm). But the size increase significantly slows down the response of the sensors and deteriorates the performance of the keyboard. As our vision is to remove pain from computing for everybody, we have to search for or develop anther technology.
Another shortcoming is that the discrete infrared beams cannot provide enough resolution to capture the inaccurate user finger movement, and often results in missed hits and backward corrections. These are the two main reasons that we get returns for refund.
The smart cameras with cutting edge computer vision technology have successfully removed these 2 limiting constraints. The image sensors in the smart cameras provide enough resolution to capture the finger landing on any point of the whole area. The view port of the cameras cover enough space for a full sized keyboard. And the frame speed together with our unique AI algorithm enable a faster response speed. Altogether, they provide a better performance and unprecedented operational experience for the users.
In the infrared beam based keyboard, sometimes the finger has to be in touch of the key surface to block some "leaking" light bouncing off the surface to reach other other side. The word "touchless" actually meant "less touch." In this camera keyboard, the middle of the frame height is used as as a criteria for the virtual key height. When your finger nail passes that line, before in contact of the real surface, the image is captured for a key press. Now by "touchless" we mean "not touching absolutely" Please let us know if you have a better word than "touchless" for this feature. This "hard distance from touch" is a feature particularly requested by a customer who has some nerve conditions on his finger tip and any form of touching may cause pain. Now we are glad to see that we can help people with one more type of special need.
Another notable innovative and helpful feature of this keyboard is the new way of handling the so called "key combinations" or "short cut keys" operations. That means you need to press down more than one keys a the same time to send a command to the computer. Traditional keyboards usually require you to use three or more fingers to press multiple keys at the same time. It can be quite awkward if your hands are small or have some special conditions. Even if your hands are perfectly suitable to the standard size, it still adds stress to your hands to perform a multi-key press. The smart inventor of this camera keyboard came up with an easier and better way to perform such operations. You only need to use one finger on each hand to perform any number of combination keys. That is, as long as one key stays depressed, any other keys pressed down once will be added to the collection until all keys are freed. This clever design further reduces the stress of using keyboards.
Testimonials
To Contact Support
Please send us your questions or issues to .
Frequently Asked Questions
(waiting for your questions...)
Some of our old products are listed here: